Profile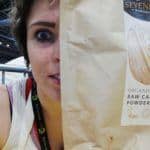 Rowena Fletcher-Wood
Does consuming vast quantities of cheese late at night count as science?
Curriculum Vitae
Education

High Storrs School Sheffield 2000-2007, Oxford University, Somerville College 2007-2011, University of Birmingham, 2011-2014

Qualifications

12 GCSEs, 8 A levels, MChem degree… and hopefully soon a PhD

Work History

Personal tutor (self-employed), Intern consultant (renewable energy and low carbon design)

Current Job

Climbing instructor, and Doctoral researcher in chemistry

Employer
Favourite thing to do in my job: Making fused beads! This is where I mix a sample with some lithium borate powder and melt it at 1050 degrees C in a platinum crucible. I then leave it to cool and it turns into a coloured glass bead; the colour depends upon what metals are in the sample. I use these beads to accurately measure how much of each element makes up the sample. However, making the beads is very dangerous and needs two people (for image, see "More about me and my work").

About Me: I'm a chemist who cares about the environment and talks to everyone about science, including my cat.

Read more

I'm an environmental chemist, with a PhD from the University of Birmingham, and a Masters from the University of Oxford. I lecture at Reading University, tutor students in maths and science, and run messy, hands-on science workshops, like making chocolate. You're likely to find me in her kitchen whipping up an edible experiment, or talking to my cat about science. Well, frankly, anyone who'll listen!

My Work: I run science events, including messy hands-on workshops like making chocolate. I do a lot of other things too.

Read more

My PhD was in chromate remediation – extracting toxic, bright orange chromium ions from wastewater solutions using molecular sieves containing other metals, usually iron. I made the sieves in an "oven" (you can make these in an oven at home too – I've tried it, and it worked!). The challenge was making sure the air-sensitive iron didn't get to rust before it had swapped places with the chromate. Most of my work was analytical: using x-rays, gamma rays, and electron beams to probe and poke my samples and find out what they looked like on an atomic scale.

My further research was in nuclear waste storage. I worked on bentonite – a clay mostly used for cat litter, but which could also be used to trap nuclear waste storage for 100,000 years. During this time, chemical and biochemical reactions take place in the clay, and I worked with other researchers to "accelerate" samples and make guesses about what would happen and how safe it would be.

Nowadays, I do a lot of science writing and working with other scientists to train them to explain their science in a way that makes sense to everybody. This means I get to delve into other people's work and learn new things all the time, which is exciting. I'm the vice chair of the Environmental Chemistry group at the Royal Society of Chemistry, and run events about science there and elsewhere, including messy hands-on workshops like making chocolate. If you have any ideas, please let me know!

My Typical Day: Flexible – depending on how I feel

Read more

My day is very flexible and I can work at home or alter my hours as I like. I usually get into work at 7.45am, and book out all the analytical equipment nobody is using that early. I'll probably start an experiment or take one off – taking about half an hour, then sit at my desk drinking tea and nibbling food doing admin. Later on, I will collect the data I have gathered and have a look at it, probably attend a meeting, then do some writing and some science communication. On a longer lab day, I will make fused beads or visit another laboratory.

What I'd do with the prize money: Put on a science play!

Read more

I recently wrote a science play called "Trusting Atoms – The Last Trials of Ludwig Boltzmann" that I would like to produce. The play is about a scientist who discovered the statistical nature of the universe and had to fight against other scientists and philosophers at a time when it was unpopular to believe that atoms existed (around 1900)!
He is believed to have been an undiagnosed manic depressant, which is a kind of mental illness where the sufferer experiences extreme highs and lows in emotions. This and the difficulties he experienced in his career eventually led him to suicide.

I want to produce this play about Boltzmann because it shows how science and scientists are really very human, and continue to evolve over time governed by fashions and passions – it should also be good entertainment!

My Interview

How would you describe yourself in 3 words?

enthusiastic, adventurous, determined

What or who inspired you to follow your career?

When I was little I used to read the backs of shampoo bottles and be annoyed that I didn't understand the ingredients. I remember saying to myself, "One day, I am going to know what these mean!"

Were you ever in trouble at school?

Not really, but I used to see how cheeky I could be. Once, my friend and I ceremonially awarded a teacher a bucket of custard. He had no words…

If you weren't doing this job, what would you choose instead?

Hopefully a writer!

Who is your favourite singer or band?

Uh. Um. I… This… isn't a question about science, is it? :|

What's your favourite food?

Celery soup

What is the most fun thing you've done?

Climbing – especially taking massive lead falls. I just can't get enough climbing.

If you had 3 wishes for yourself what would they be? - be honest!

#1 I wish I had a job planned for next year; #2 I wish for better health, #3 I wish I could do another degree (or three)

Tell us a joke.

What do you get if you put a detective in water? …A solution!
---
---